Ajo blanco (also written ajoblanco) is a traditional Spanish cold soup made with almonds. It's easy to prepare, with delicate flavors, and makes a great light appetizer on a hot day.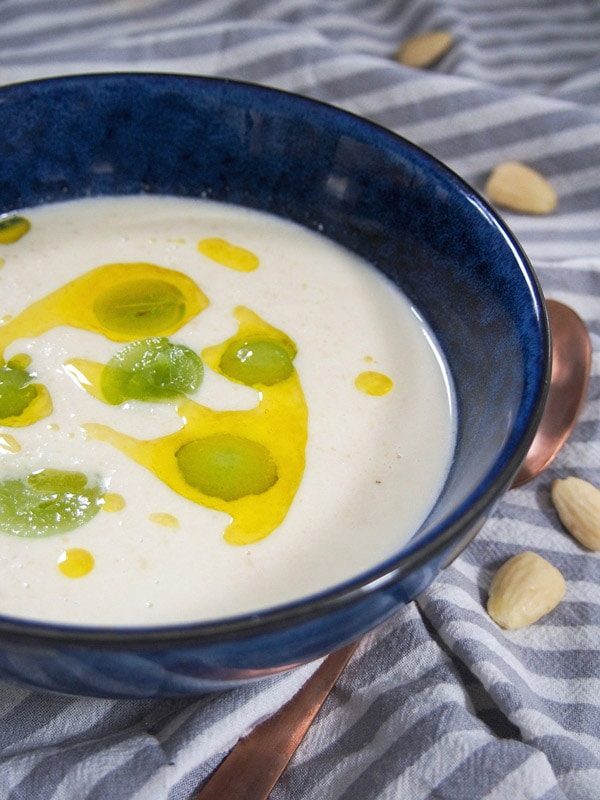 Spanish gazpacho is well known around the world for being a cold soup, perfect for a warm summer's day.
Ajoblanco is a similar dish and sometimes called "white gazpacho". However, it has it's own distinct flavor and is definitely worth trying.
Origins of ajo blanco
The exact origins of this soup are a little unclear, with some saying it has Roman or Greek origins.
What is generally agreed on is that it predates gazpacho. Tomatoes were only introduced to Spain following the exploration of the New Worlds by Columbus's expeditions.
These days it is hard to imagine Spanish cooking without tomatoes, whether they are in the sauce for albondigas or on pan con tomate. But other classic Spanish flavors are in fact older.
Many came from the Moorish period in Spain's history. It's this period that may be the most likely origin of ajo blanco.
Moorish influences in Spanish cooking
Over a period of around 800 years, starting in 711, Moorish rulers governed parts of modern-day Spain.
Part of this time their kingdom was around two thirds of the country, then the area reduced to being just in the very South, ending just around Granada in Andalucia.
The name Andalucia in fact comes from the Moorish kingdom of Al-Ándalus.  You'll find various Moorish influences in both the architecture, such as Granada's alhambra and Cordoba's mezquita, and the cuisine in modern day Andalucia in particular.
An obvious example is pinchos morunos, literally Moorish kebabs, which use some of the spices the Moors introduced.
They also introduced ingredients like rice, sugar, saffron and almonds.
You can find out more about the Moorish influence on Spanish cooking in this post.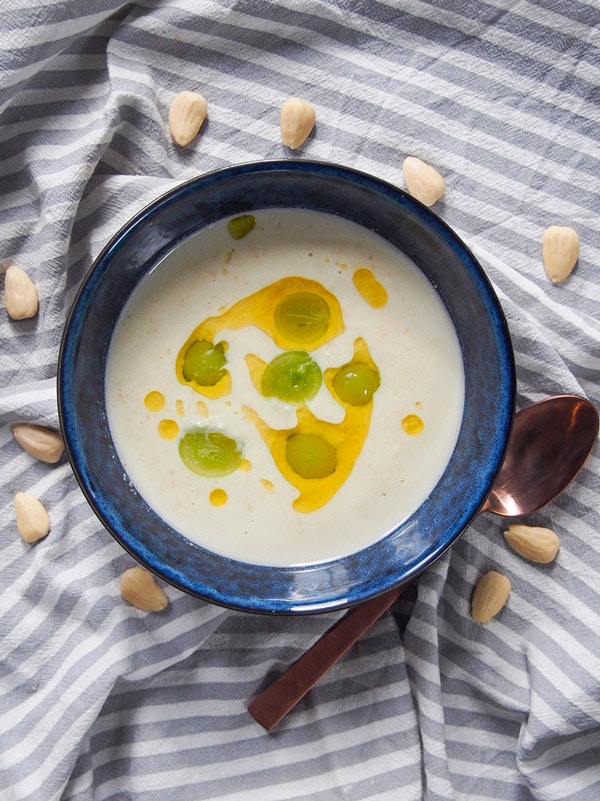 Almonds in Spain
Following their introduction, almonds became a popular crop in Spain that was well-suited to the climate and terrain. They are important to this day, with Spain the second largest producer of almonds in the world, after the United States.
Andalucia in the South and Valencia along the Mediterranean coast are the main regions where almonds are grown, with some areas covered in huge numbers of trees.
The love of almonds is reflected in many favorite Spanish foods.
Polverones are a classic sweet treat using almonds, that are particularly popular at Christmas time while turron, a kind of nougat, has a number of variations but nearly all include almonds either whole or as a paste.
The cake tarta de Santiago may be from Galicia in the North, but it too shows the Spanish love of almonds using only almonds flour as the base.
Variations on this white gazpacho
Ajoblanco is a soup that is popular across Southern Spain.
The Andalucian style you see here uses the main ingredients of almonds, bread, olive oil and garlic which have remained the same for centuries.
However, Extremadura has a variation which uses egg yolk in an emulsion and not always almonds.
This soup is particularly popular in rural communities, no doubt a reflection of the humble ingredients. Almonds are abundant in the region and it's a great way to use leftover, stale bread.
And, it would hardly be a savory Spanish recipe without garlic and olive oil!
The fruit in aji blanco
You'll find only some slight variation in modern recipes, with most adding either apple, grapes or cucumber to the core ingredients.
Even if not in the soup itself, you'll often find this dish garnished with grapes or melon.
All of these help add a little freshness and lightness to the soup's flavor and texture.
I have gone with tart green apple here, as they have a balance of a slight sweetness that pairs well with the almonds.
What almonds to use for this Spanish almond soup
If you can, use Marcona almonds for this, as you would in Spain. They have a wonderful almost gently sweet flavor that has more depth to it.
If you can't find Marcona almonds, then you may want to gently toast your almonds (either in a dry skillet or under broiler) before using to give them that little bit of extra flavor.
Just take care to watch them closely so they don't burn!
Tips to make this aji blanco recipe
You can add more or less garlic to this as suits your palate. This version has a little, but it is not overly garlic-flavored. If you want to make the garlic flavor more pronounced, you can add more.
In making this, I added some water initially then added more to thin it later on. This helps you get the consistency you prefer.
If your blender is not that strong, you may want to strain some or all of the soup to get a smoother texture, but that too is a personal preference.
Ideally, you should make this ahead of time to allow it to chill properly, just as you would with gazpacho. If this isn't possible, then add a little ice as you blend to help cool it.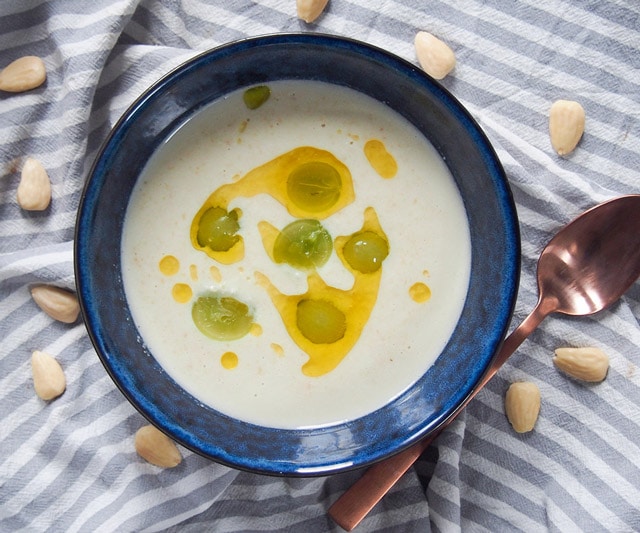 Ajo blanco is easy to make, with delicate and delicious flavors. It's light and cooling and the perfect way to start a tapas meal, or indeed any meal.
Yield: 2 servings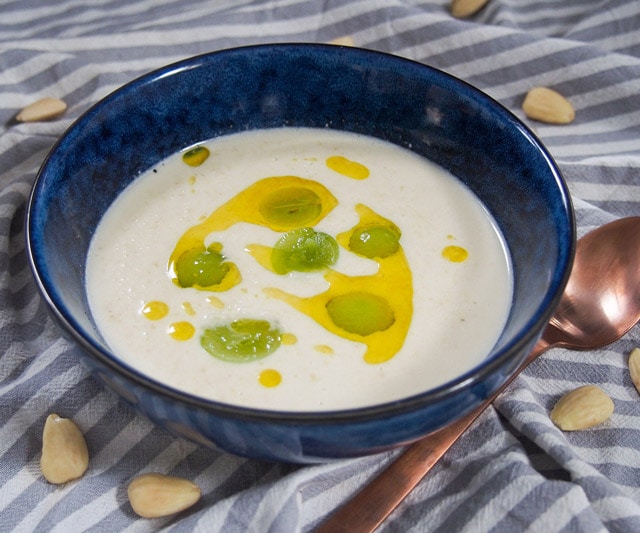 Ajo blanco (also written ajoblanco) is a traditional Spanish cold soup made with almonds. This refreshing soup is sometimes called "white gazpacho".
Prep Time 15 minutes
Chilling Time 1 hour
Total Time 1 hour 15 minutes
Ingredients
2oz (60g) bread, 1 or 2 days old, around 1 slice — approx 3/4 cup once crust removed and diced (weight is without crust)
1/2 cup cold water, plus more as needed
1 tsp sherry vinegar
1 small clove garlic
1/2 green apple (ex: Granny Smith), peeled and diced
2 Tbsp extra virgin olive oil
salt to taste, if needed
To serve
1 Tbsp olive oil
6 green grapes, cut in half and any seeds removed
Instructions
Place the diced bread in a blender. Sprinkle 1/2 c cold water and sherry vinegar over the bread, then blend until relatively smooth.
Add the almonds, garlic and apple and blend until smooth.
Carefully, with the blender still running, add the olive oil. (If this is not possible with your blender, add the oil, then blend again.)
Add a little more water (around 2 Tbsp – 1/4 cup) to make a smooth, pourable consistency. Add a little salt, if needed, to taste.
Chill the soup, covered, for at least an hour to become well chilled. Or, if not possible, add a couple ice cubes to the mixture and blend them in well.
To serve, divide the soup between two bowls and top each with some halved green grapes and a drizzle of olive oil.
Notes
A sourdough or country-style bread works well here – white with some flavor is best, wholegrain is not the best here.
If your blender has left the mixture very grainy, you may want to strain the mixture slightly before serving, but it's worth trying it first, as it may not taste as coarse as it might look.
Recommended Products
As an Amazon Associate and member of other affiliate programs, I earn from qualifying purchases.
Nutrition Information:
Yield:
2
Serving Size:
1/2 of recipe
Amount Per Serving: Calories: 422Total Fat: 38g
If you liked this recipe, here are some similar dishes you may enjoy!