Ssamjang is a Korean sauce for lettuce wraps. Learn how to make a basic ssam sauce and a variation made with canned tuna.
What is ssamjang?
Ssamjang (쌈장) is best known as a dipping sauce that accompanies lettuce wraps for Korean BBQ. In food terms, ssam (쌈) means wraps or wrapped food, and jang (장) is a collective term for Korean fermented condiments, such as doenjang, gochujang and ganjang.
Technically, ssamjang is any sauce that's used for ssam. While there are many different types, it's typically made with doenjang and/or gochujang as well as some other ingredients. The mixture is primarily used at the table as a sauce for vegetable wraps or as a dipping sauce for fresh vegetables such as cucumbers and green chili peppers.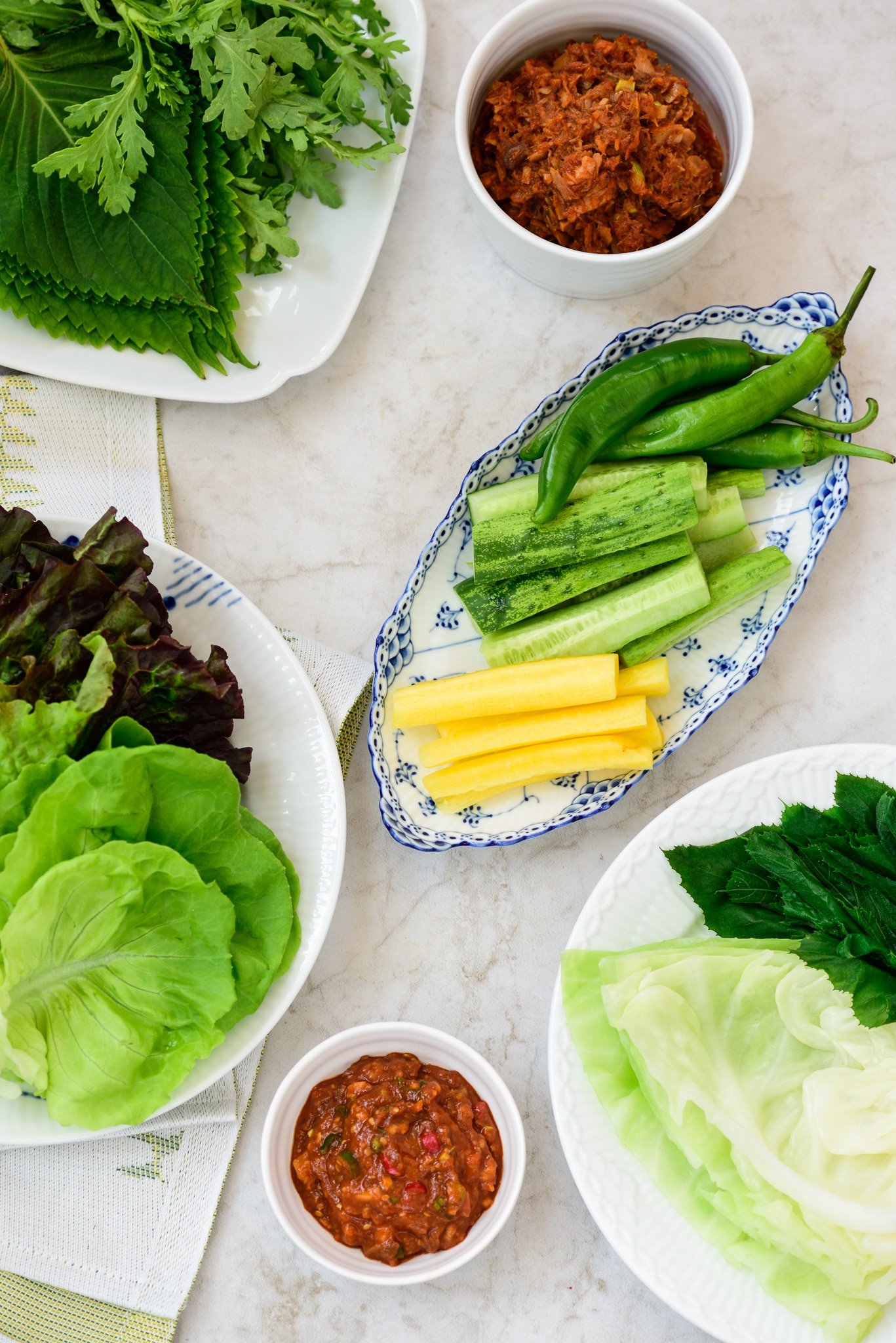 What is ssam?
As mentioned above, ssam refers to wraps or wrapped food. It's a huge part of Korean food culture. Historically, Koreans associated wrapped food with good fortune, and there are many different types of wrapped food. This type of sauce is typically used for vegetable wraps, which encompass all kinds of fresh, pickled, and steamed or blanched vegetables.
Although lettuce varieties (sangchu, 상추) are most common, Koreans use all sorts of fresh and cooked vegetables for ssam. Perilla leaves, bean leaves, zucchini leaves, cabbages, and fresh sea vegetables are some of the common ones.
Growing up, steamed zucchini leaves (hobaknnip, 호박잎) were my summer favorite. My family also loves blanched green cabbages as wraps.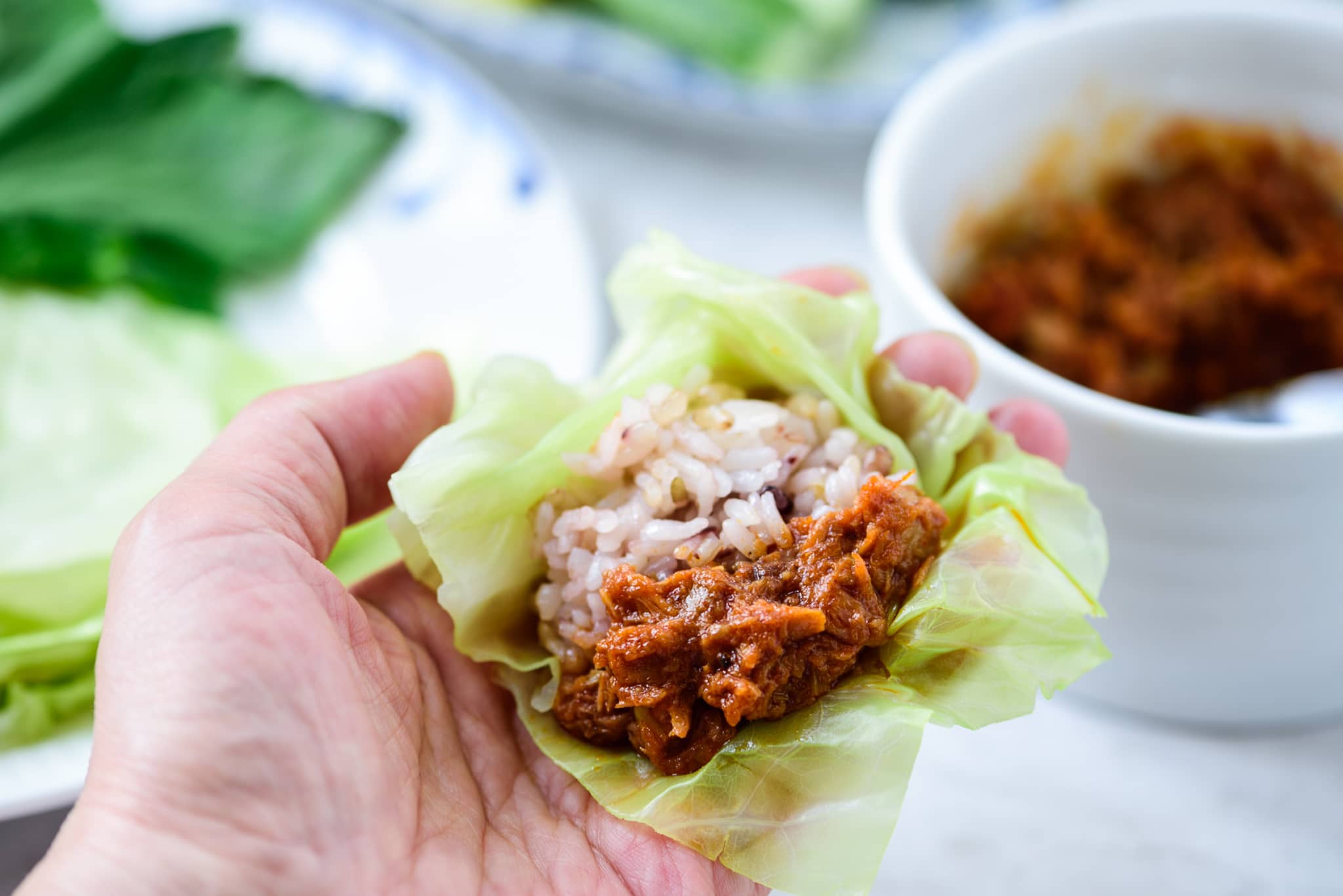 Often, we simply enjoy ssam with a spoonful of rice in it with a dollop of ssamjang. However, there's no limit to what goes into a wrap. In addition to all the meat options, ssam is also delicious with braised fish, grilled fish, raw fish, canned fish, tofu, and so on.
Usually each person makes his/her own wraps at the table. You can also serve pre-wrapped ssambap by making ssam rolls with some rice and ssamjang in them.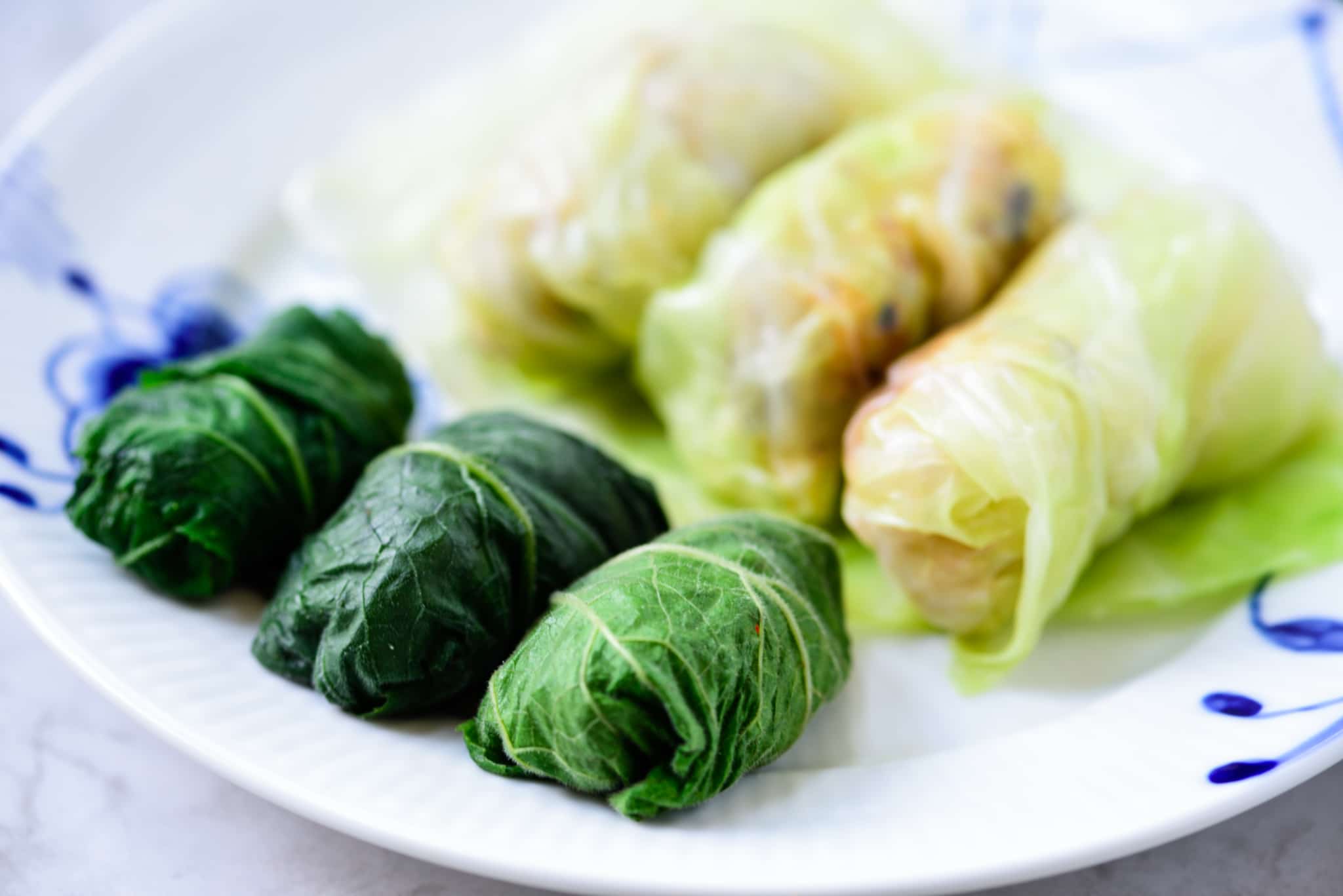 Types of ssamjang
You can purchase premade ssamjang at Korean markets, usually stocked side by side with doenjang and gochujang. However, I'd recommend you spend your money on doenjang and guchujang, with which you can easily make fresh ssamjang any time and make many other Korean dishes.
As with most Korean dishes, there are probably as many ssamjang recipes as the number of Korean cooks. However, there are largely two types. The first type is made simply by mixing the ingredients, while the other type involves cooking the ingredients together.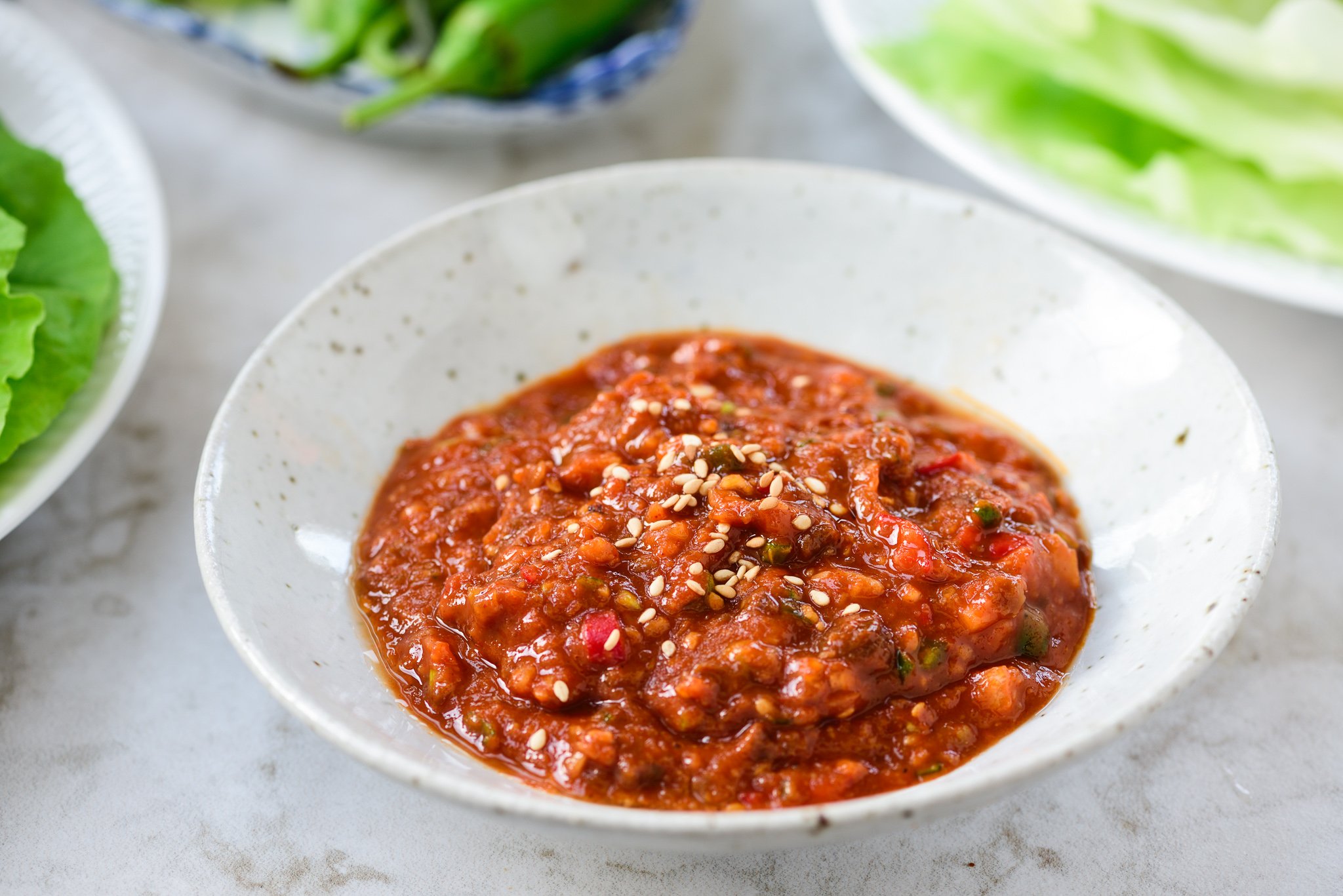 How to make ssamjang 
Typically, ssamjang is a mixture of doenjang and gochujang. The ratio of the two is totally a matter of preference, but it's usually more doenjang than gochujang. For a good balance of umami and heat, I generally use the ratio of 2:1.
What's added to the mixture is wide open to the cooks as well.
For a quick version, I simply add sesame oil, sesame seeds, and some minced garlic, and mix with a bit of water or rice wine (or mirin) to thin it. Some people also use a soft drink.
If you want to go one step further, add finely chopped scallions, onion and/or chilli peppers. A little bit of sugar or oligodang (or honey) is also nice to balance out the saltiness of doenjang and gochujang.
Sometimes, I also mix in finely chopped nuts, such as almonds, walnuts, peanuts, and/or pine nuts. The addition of nuts gives ssamjang a nice nutty flavor while adding a crunchy texture.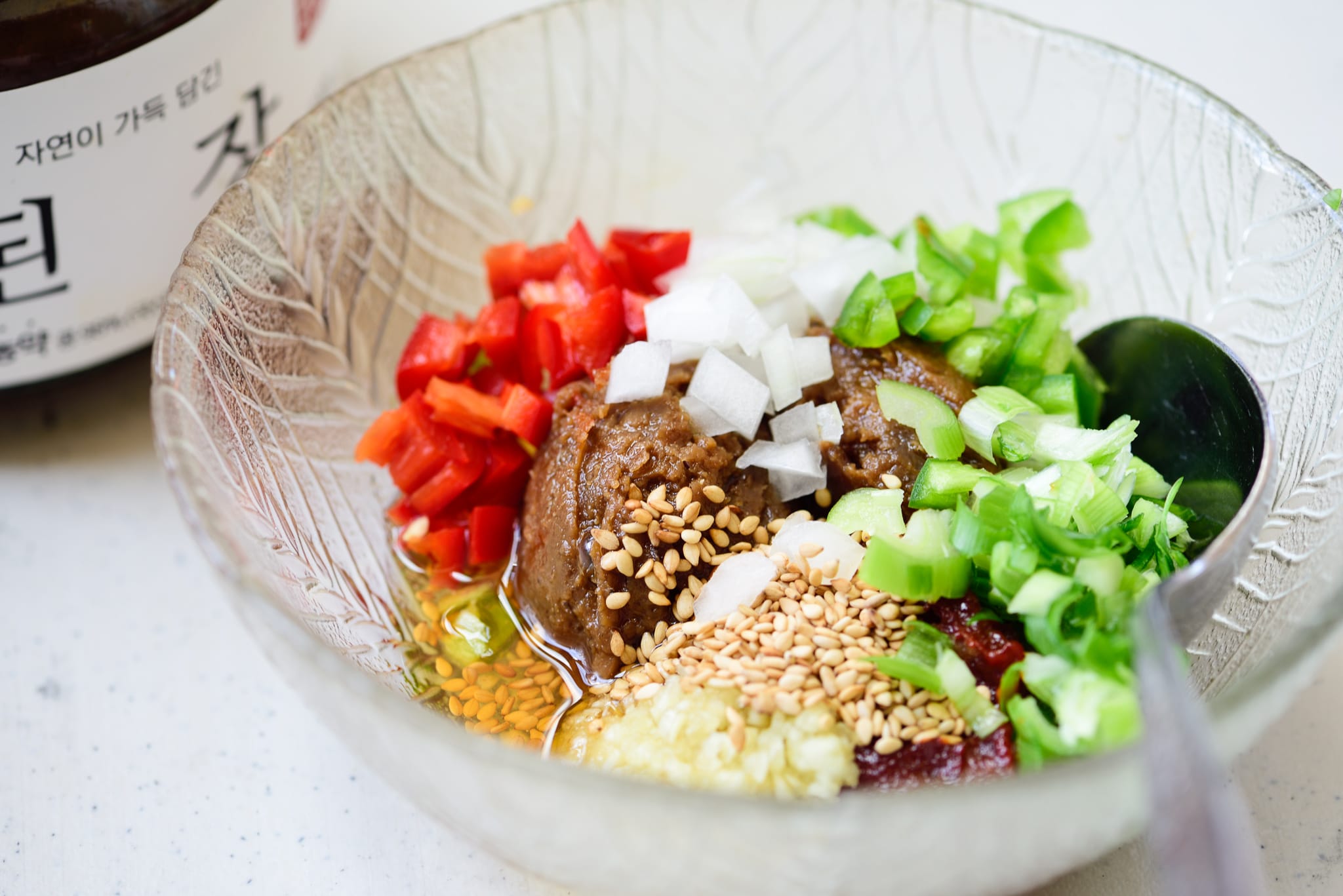 How to make cooked ssamjang
This type of ssamjang is also very popular in Korea. It's a great way to add protein and other vegetables to make it more substantial and delicious. The resulting sauce tastes less salty, so you can use more for each wrap or dip.
To make it, you basically cook aromatic vegetables such as garlic, onion, and scallions as well as your choice of protein and/or other vegetables such as mushrooms, zucchini, etc. Then, stir in doenjang and gochujang. Canned tuna (chamchi 참치), ground meat and tofu are popular protein choices.
I'm showing both types of ssamjang recipes here and how you can make variations for each type.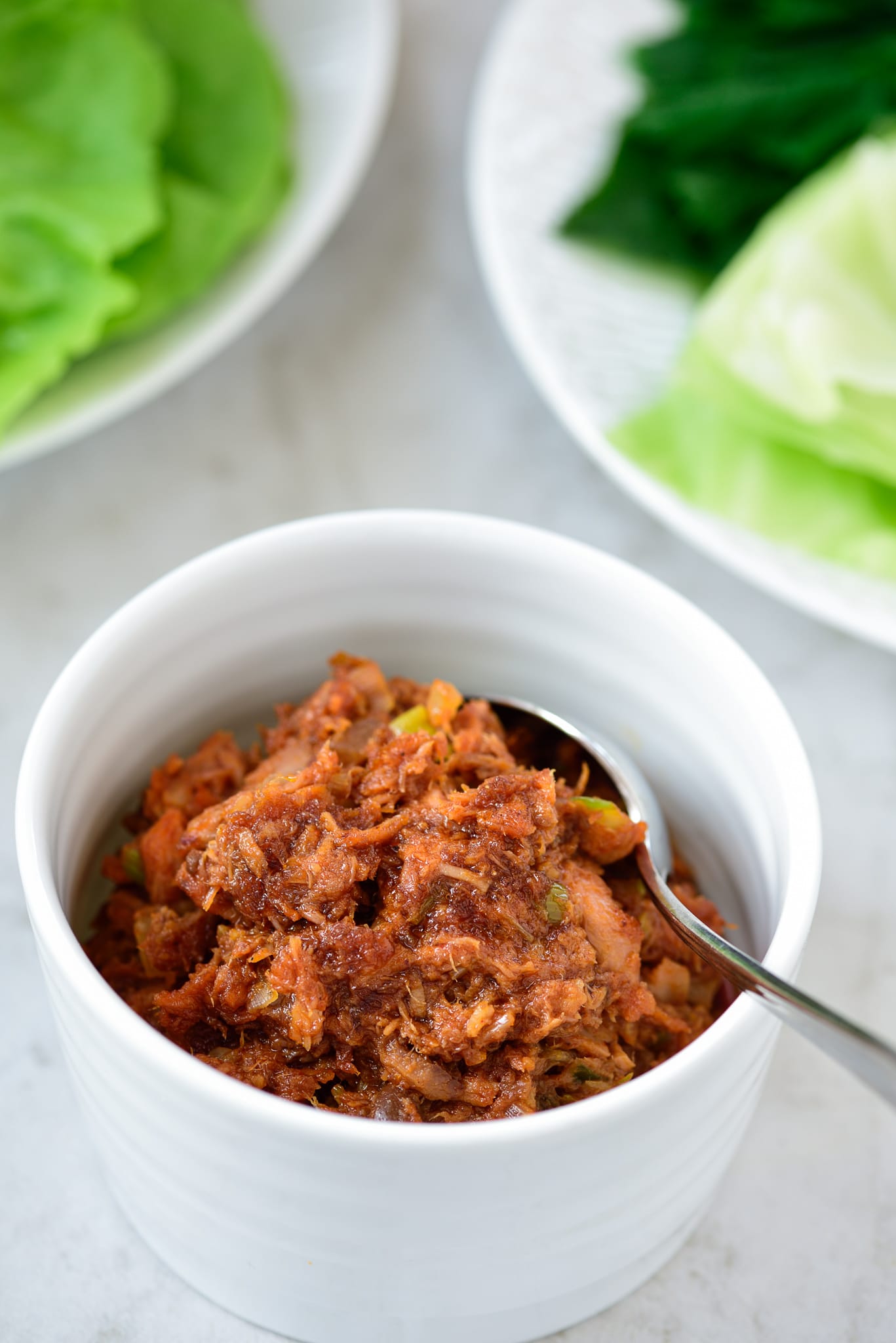 Have you tried this ssamjang recipe? Please rate the recipe below and leave a comment! Stay in touch by following me on YouTube, Pinterest, Twitter, Facebook, and Instagram.
Ssamjang (Sauce for Korean Wraps)
Side Dish
Servings: 4
Ingredients
For basic ssamjang (no-cook)
Optional ingredients for no-cook ssamjang (use any or all of the listed ingredients)
Instructions
For basic ssamjang
Combine all the ingredients and mix well until everything is well incorporated.

If using optional ingredients, prepare the ingredients, combine and mix everything well.
For tuna ssamjang
Preheat a small pan with a tablespoon of oil. Add the onion, scallion and garlic and stir fry until the onion is cooked.

Add the tuna, doenjang, gochujang and the remaining ingredients. Stir well for a few minutes until everything is well incorporated. You can stir in some water or rice wine (or mirin) if the sauce seems dry (2 to 3 tablespoons).
Notes
You can add other canned fish. Also, substitute tuna with ground meat or crushed tofu.